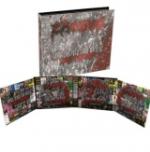 ДРУГИ АРТИКУЛИ НА
EXODUS:





Artist: EXODUS
Album: "SHOVEL HEADED TOUR MACHINE LTD. EDIT. (2DVD+CD)"

Year: 2010
Media type: CD


- One of the best metal live-DVDs ever! Including a special documentary DVD – with more than 3 hours running time! Limited metallic 3-disc DIGI available (incl. audio bonus-CD) [!]


- КОЛИЧЕСТВАТА ОТ ТОЗИ ФОРМАТ/ АРТИКУЛ СА ОКОНЧАТЕЛНО ИЗЧЕРПАНИ И НЕ МОГАТ ДА БЪДАТ ДОСТАВЕНИ [!]


Цена: 22.00 лв. (BGN)

Cat. No.: WIZ00010989
Label: NUCLEAR BLAST
Genre: Thrash Metal/ Speed



Статус: Наличен / In Stock




- NUCLEAR BLAST TOP-34 SPRING 2016 CAMPAIGN! ВРЕМЕННО НАМАЛЕНИЕ!! СЛЕД ИЗЧЕРПВАНЕ НА ОПРЕДЕЛЕНИТЕ КОЛИЧЕСТВА ЦЕНАТА СЕ ВРЪЩА НА СТАРОТО НИВО!
Кратко и просто. EXODUS правят невъзможното възможно: С албума "The Atrocity Exhibition – Exhibit A" (2007), те записаха най-добрият си албум в дълготрайната си кариера. Какво? Спомена ли някой "Bonded By Blood"? Да, сигурно, но това е класика от далечната 1985 година. Обаче след няколко години и "The Atrocity Exhibition (Exhibit A)" ще има същият статус. След изслушването на този запис е перфектно ясно: ТОВА е най-добрият траш-албум след... Всъщност след кой друг албум?

Сега през 2010, епохалната група от траш метъл-сцената на могъщата BayArea издава своето шоу от фестивала Wacken от изданието му през 2008 година, като към нега са прибавени голямо количество здрав материал отпред, на и зад сцената, както и някои пътни кадри. Добавени са някои от най-добрите видеоклипове на EXODUS, както и едно класическо интервю от 1985 година и целият този поразителен пакет е озаглавен: "Shovel Headed Tour Machine (Live At Wacken And Other Assorted Atrocities)". Той чудесно маркира поредното важно състояние в кариерата на Gary Holt и Tom Hunting или още по-точно казано - thrash metal булдозера EXODUS!

Гръмогласният заряд от 80 000 крещящи почитатели на фестивала Wacken създава една епична картина в която американските трашери забиват както парчета от последния си албум "The Atrocity Exhibition – Exhibit A", така и някои по-стари траш-гранати на EXODUS! Това е живо доказателство за интензивността на EXODUS и заради това приемаме, че няма по-добра концертна банда в този музикален жанр!

EXODUS утвърждават за пореден път своя статус! Легендата е жива!


TRACKLIST DVD 1/ AUDIO CD:

EXODUS caught live at Wacken in Germany on their 2008 world tour in front of over 80 thousand screaming moshing maniacs. Witness this punishing collection on DVD then listen to the same brutal collection on the CD included.

01. Bonded By Blood
02. Iconoclasm
03. Funeral Hymn
04. A Lesson In Violence
05. Children Of A Worthless God
06. Piranha
07. Deathamphetamine
08. Blacklist
09. War Is My Shepherd
10. Strike Of The Beast
11. Shovel Headed Kill Machine
(68 min. total running time)


TRACKLIST DVD 2 - DOCUMENTARY:

Explore the history of EXODUS and get a behind the scenes look into life on the road in the documentary "ASSORTED ATROCITIES". Covering the last 5 years, this feature length movie brings you closer to the inner circle of the band. Hear stories from the road including the craziest Paul Baloff moments. Go inside the recording process of "Shovel Headed Kill Machine". Tour the world as EXODUS lands in South America, Japan, Australia and Europe. Watch as the band supplies voices to the cartoon "METALOCALYPSE". The making of music videos for "Riot Act" and "Now Thy Death Day Come" plus plenty of killer clips showing insane moments of the greatest fans in the world.

Plus, over an hour of Deleted Scenes, Rare Live Performances, Music Videos, Vintage Interview from 1985, Trailers and the most comprehensive photo gallery with over 350 photos.

This definitive collection was put together for the fans!
(188 min. total running time)

LINE-UP:

Rob Dukes – Vocals
Gary Holt – Guitar
Lee Altus – Guitar
Jack Gibson – Bass
Tom Hunting – Drums