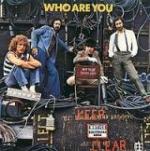 ДРУГИ НАЛИЧНИ АРТИКУЛИ НА
THE WHO:


Artist: THE WHO
Album: "WHO ARE YOU REMASTERED (CD)"

Year: 1978/ 1996
EAN/UPS: 0731453384521
Media type: CD

- Digitally Remastered + 5 Bonus tracks [!]

- МЕГА РАЗПРОДАЖБА!! ВАЖИ ДО ИЗЧЕРПВАНЕ НА ОПРЕДЕЛЕНИТЕ КОЛИЧЕСТВА!!

Цена: 14.00 лв. (BGN)

Cat. No.: WIZ00010013
Label: Universal
Genre: Hard Rock



Статус: Наличен / In Stock





Who Are You is the eighth album by English rock band The Who. It was released on 18 August 1978, through Polydor Records in the United Kingdom and MCA Records in the United States. It peaked at number 2 on the U.S. charts and number 6 on the U.K. charts.[citation needed] It is The Who's last album with Keith Moon as the drummer; Moon died about three weeks after the release of this album.

Who Are You was put out at a time when the two major camps of rock, progressive rock and punk rock, were conflicting due to their antipodal styles. Pete Townshend's compositions were written as an attempt to bring the two styles together. The album showcases some of the most complicated song structures guitarist Townshend had ever composed, with multiple layers of synthesizer and strings. Moon's deteriorating health is reflected in some of the tracks; the alcohol and drug abuse had taken away from the frenzied drumming he was renowned for, but he delivered a powerhouse performance on the title track.

There was a three-year hiatus between Who Are You and The Who's previous album, The Who by Numbers. The band was drifting apart during this period, due to the band members working on various solo projects, Moon sinking deeper into alcohol and drug abuse, and general exhaustion from the gruelling tour schedule the band had kept over the decade. Moon's health was especially an object of concern, as he only managed to come in during the last few weeks of recording and was unable to play in 6/8 time on the track "Music Must Change", so drums were removed completely from the track and only a few cymbal crashes were added. Moon died just under a month after its release, and on the cover, he is shown sitting in a chair labeled "Not to be taken away". Moon is sitting backwards on the chair to hide his excessive weight gain over the prior three years.

"Sister Disco" seems to mourn the death of disco, but in fact is a criticism of it. It features complicated synthesizer tracks that are the result of hours Pete Townshend spent programming an ARP 2500 synthesizer. Despite the long hours, Roger Daltrey did not like the synthesizer tracks, and ended up fighting with Glyn Johns about it.

The song was never performed with Keith Moon. However, it was performed regularly when The Who toured with Kenney Jones as drummer, and quickly became a live favourite[citation needed], despite Townshend's claim that this was the song he least enjoyed to play on stage. It was included on the band's 2002 Ultimate Collection album. It was also revived for their fall 2008 tour.

The album was a commercial success, going 2x platinum in the U.S. and peaking at Number 2 on the Billboard Pop Albums chart. The soundtrack to Grease prevented Who Are You from achieving Number 1 status in the U.S. The success of Who Are You generated excitement at the prospect of a new Who tour for the album. However, the album is surrounded by tragedy for Who fans due to Moon's death shortly after the album's release. The songs on the album were later performed on tour in 1979 when The Who were joined by new drummer Kenney Jones and keyboardist John Bundrick. Bundrick had been invited to play on the album, but broke his arm falling out of a taxi at the studio door and was unable to participate.

All songs written by Pete Townshend, unless otherwise noted.

TRACKLIST:

1."New Song" – 4:14
2."Had Enough" (John Entwistle) – 4:27
3."905" (John Entwistle) – 4:02
4."Sister Disco" – 4:23
5."Music Must Change" – 4:39
6."Trick of the Light" (John Entwistle) – 4:45
7."Guitar and Pen" – 5:56
8."Love Is Coming Down" – 4:04
9."Who Are You" – 6:16

1996 remastered edition bonus tracks:

10."No Road Romance" – 5:10
11."Empty Glass" – 6:23
12."Guitar and Pen" (Olympic '78 Mix) – 5:58
13."Love Is Coming Down" (Work-in-Progress Mix) – 4:06
14."Who Are You" (Lost Verse Mix) – 6:18

LINE-UP:

Roger Daltrey – lead vocals
John Entwistle – bass guitar, vocals, synthesizer, horns on "Had Enough" and "Music Must Change", and lead vocals on "905"
Keith Moon – drums, percussion, backing vocals on track "Who Are You"
Pete Townshend – guitar, piano, synthesizer, vocals

Additional musicians:
Rod Argent – synthesizer on "Had Enough", piano on "Who Are You"
Ted Astley – string arrangement
Andy Fairweather-Low – backing vocals on "New Song", "Had Enough", #"Guitar and Pen", "Love Is Coming Down", and "Who Are You"