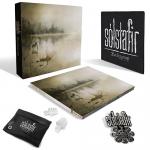 ДРУГИ АРТИКУЛИ НА
SOLSTAFIR:





Artist: SOLSTAFIR
Album: "BERDREYMINN DELUXE BOX (BOX-SET)"

Year: 2017
EAN/UPS: 822603941227
Media type: CD


- Sixth full-length album by the biggest Icelandic metal / rock band. Mixed at Orgone Studios (PRIMORDIAL, CATHEDRAL, ULVER...). Mastered at Sterling Sound (THE ROLLING STONES, QUEEN, IRON MAIDEN...) by Ted Jensen (THE POLICE, PANTERA, DEFTONES, MUSE, GREEN DAY, EAGLES, ERIC CLAPTON...) [!]

- The Digibox edition is strictly limited to 10,000 copies worldwide and includes the following items: the album 'Berdreyminn' + bonus tracks "Svart Blod" and "Samband i Berlin" in CD Digipak with extended 24 page booklet + earplugs with Solstafir storing pouch + pin + patch [!]





Цена: 34.00 лв. (BGN)

Cat. No.: WIZ00021287
Label: Season Of Mist
Genre: Progressive/ Instrumental Metal, Black Metal/ Atmospheric/ Dark Metal



Статус: Наличен / In Stock




- АЛБУМ НА СЕДМИЦАТА!! НА СПЕЦИАЛНА ЦЕНА В ОГРАНИЧЕН ПЕРИОД ОТ ВРЕМЕ!!
SOLSTAFIR are not like any other band. Their sixth album 'Berdreyminn' underscores this statement. As its title "a dreamer of forthcoming events" aptly describes, the four Icelanders have taken their already impressive evolution one step further. The band has continued to amalgamate haunting melodies, psychedelic phases, as well as strong undercurrents of classic rock and hard rock with echoes of their metal past. Yet SOLSTAFIR's focus is not on style but pure emotion. 'Berdreyminn' is eclectic by a conscious choice to make feelings audible and transform taste as well as texture to sound. Genre borders are not broken but simply ignored. Musical influences are gathered from a wide range of sources, re-arranged, and woven into new patterns. Melancholy, longing, anger, joy, pleasure, pain, and other emotions are fuelling & fulling this album.

Recommended if you like: (later) ENSLAVED, BARONESS, MASTODON, AGALLOCH, LONG DISTANCE CALLING, PRIMORDIAL ...

TRACKLIST CD/ 2LP:

1. Silfur-Refur (6:54)
2. Ísafold (4:59)
3. Hula (7:07)
4. Nárós (7:23)
5. Hvít Sæng (7:22)
6. Dýrafjörður (7:32)
7. Ambátt (8:08)
8. Bláfjall (8:00)

Digibox bonus tracks:
09. Svart Blóð (4:49)
10. Samband i Berlin (4:22)