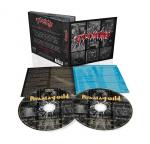 ДРУГИ АРТИКУЛИ НА
TANKARD:





Artist: TANKARD
Album: "OLDIES & GOLDIES - THE VERY BEST OF THE NOISE YEARS 1986-1995 (2CD DIGI)"

Year: 2016
EAN/UPS: 4050538191592
Media type: CD


- ВРЕМЕННО НАМАЛЕНИЕ!! ВАЖИ ДО ИЗЧЕРПВАНЕ НА ОПРЕДЕЛЕНИТЕ КОЛИЧЕСТВА!!


Цена: 16.00 лв. (BGN)

Cat. No.: WIZ00021161
Label: Noise/ BMG
Genre: Thrash Metal/ Speed



Статус: Наличен / In Stock




"Founded in Frankfurt, Germany in 1982, Tankard got the attention of Noise Records owner Karl-Ulrich Walterbach when they sent the label their 2nd self-financed demo 'Alcoholic Metal'. Given just 10,000 marks and two weeks to record their debut album Zombie Attack they trashed the hotel room they were staying in and were forced to pay for repairs from their next licence deal. Luckily the band's beer metal take on thrash metal proved incredibly popular and they went on to become one of the ""The Big Teutonic Four"" of Teutonic thrash metal along with Kreator, Destruction and Sodom.

Oldies & Goldies (The Noise Years 1986-1995) features humorous thrash metal from the band's 8 albums on Noise records. Oldies & Goldies is one of 8 new 2CD and digital compilations released as part of the Noise Lebt reissue series. Each title features striking generic packaging in a stylish digipack with new sleevenotes featuring band interviews, photos and memorabilia. Further Tankard LP and expanded CD studio album reissues will follow later in the year. "


CD ONE:

1. "1. Zombie Attack
2. Mercenary
3. Maniac Forces
4. (Empty) Tankard
5. Poison
6. Total Addiction
7. Tantrum
8. Don't Panic
9. For a Thousand Beers
10. Chemical Invasion
11. Alcohol
12. Intro / Commandments
13. Shit - Faced
14. F.U.N.
15. Try Again
16. The Morning After
17. Alien
18. 666 Packs
19. Live to Dive"

CD TWO:

1. 666 Packs
2. Live to Dive
3. Open All Night
4. We Are Us
5. Dancing On Our Graves
6. Bermuda
7. Space Beer
8. Jurisdiction
9. Broken Image
10. Stone Cold Sober
11. Freibier
12. Death Penalty
13. Nation Over Nation
14. Two - faced
15. Grave New World
16. Minds On the Moon
17. Atomic Twilight
18. Hope?