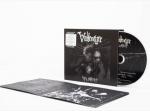 ДРУГИ АРТИКУЛИ НА
VALLENFYRE:





Artist: VALLENFYRE
Album: "SPLINTERS LTD. EDIT. (DIGI)"

Year: 2014
EAN/UPS: 5051099839281
Media type: CD


- МЕГА РАЗПРОДАЖБА!! ВАЖИ ДО ИЗЧЕРПВАНЕ НА ОПРЕДЕЛЕНИТЕ КОЛИЧЕСТВА!!


Цена: 18.00 лв. (BGN)

Cat. No.: WIZ00017212
Label: Century Media
Genre: Old Skull/ Melodic Death Metal, Doom/ Stoner/ Sludge Metal



Статус: Наличен / In Stock




A dark and absolutely crushing mix of death, doom, grind and crust is what UK's VALLENFYRE led by vocalist/guitarist Greg Mackintosh (PARADISE LOST) create and "Splinters", the band's 2nd album after the much lauded debut "A Fragile King" (2011), perfects their monumental sound. Also featuring members of My Dying Bride, Extinction Of Mankind, At The Gates and a massive production by Kurt Ballou (Converge, Black Breath, Beastmilk), "Splinters" is the work of experienced, passionate and inspired musicians resulting in a masterpiece of heartfelt, rotten extremity. Essential!
TRACKLIST CD:
01. Scabs (03:36)
02. Bereft (07:11)
03. Instinct Slaughter (01:26)
04. Odious Bliss (04:10)
05. Savages Arise (02:40)
06. Aghast (05:15)
07. The Wolves Of Sin (03:08)
08. Cattle (02:57)
09. Dragged To Gehenna (04:16)
10. Thirst For Extinction (02:07)
11. Splinters (06:28)