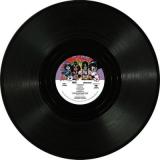 Artist: KISS
Album: "UNMASKED LTD. EDIT. VINYL (LP)"

Year: 1980/ 2014
Media type: LP


- 2014 Newly Remastered from Ultra-High-Definition Direct Stream Digital Transfers from Original Analog Tapes and Pressed on 180g LP at QRP [!]

- ВРЕМЕННО НАМАЛЕНИЕ!! ВАЖИ ДО ИЗЧЕРПВАНЕ НА ОПРЕДЕЛЕНИТЕ КОЛИЧЕСТВА!!



Цена: 38.00 лв. (BGN)

Cat. No.: WIZ00016913
Label: Universal
Genre: Melodic Hard Rock/ AOR, Hard Rock, Melodic Heavy Metal



Статус: Наличен / In Stock




KISS celebrates the 40th Anniversary of the release of their debut album, Hotter Than Hell, with re-mastered reissues on 180g Vinyl.
Released in 1980, Unmasked was the 8th studio album for Kiss and the final album featuring the original line of Stanley, Simmons, Frehley, and Criss. Peter Criss did not actually perform on this recording, rather Anton Fig played all the drums but was uncredited.
The band filmed a promotional video for "Shandi" with Peter Criss. It was the last time he appeared with Kiss until he performed with them on June 17, 1995 at a Kiss Convention.

No. Title Writer(s) Lead vocals Length
1. "Is That You?" Gerard McMahon Paul Stanley 3:59
2. "Shandi" Stanley, Vini Poncia Stanley 3:36
3. "Talk to Me" Ace Frehley Frehley 4:00
4. "Naked City" Gene Simmons, Poncia, Bob Kulick, Pepe Castro Simmons 3:49
5. "What Makes the World Go 'Round" Stanley, Poncia Stanley 4:14
6. "Tomorrow" Stanley, Poncia Stanley 3:18
7. "Two Sides of the Coin" Frehley Frehley 3:16
8. "She's So European" Simmons, Poncia Simmons 3:30
9. "Easy As It Seems" Stanley, Poncia Stanley 3:24
10. "Torpedo Girl" Frehley, Poncia Frehley 3:31
11. "You're All That I Want" Simmons, Poncia Simmons 3:04