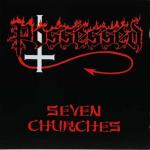 ДРУГИ АРТИКУЛИ НА
POSSESSED:


Artist: POSSESSED
Album: "SEVEN CHURCHES RE-ISSUE (CD)"

Year: 1885/ 2012
Media type: CD
- Re-issue of this landmark Bay Area Satanic thrash/death release, held in the highest regard by metal legions around the world. Get it or burn in heaven [!]

Price: 18.00 лв. (BGN)

Cat. No.: WIZ00014440
Label: Century Media
Genre: Black Metal/ Atmospheric/ Dark Metal, Thrash Metal/ Speed


Статус: Артикулът е временно изчерпан!
Доставка до 30 дни.
TRACKLIST:
1. The Exorcist
2. Pentagram
3. Burning In Hell
4. Evil Warriors
5. Seven Churches
6. Satan's Curse
7. Holy Hell
8. Twisted Minds
9. Fallen Angel
10. Death Metal