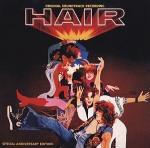 ДРУГИ АРТИКУЛИ НА
ORIGINAL SOUNDTRACK:





Artist: ORIGINAL SOUNDTRACK
Album: "HAIR 20TH ANNIV. EDIT. (CD)"

Year: 1999
Media type: CD



- ВРЕМЕННО НАМАЛЕНИЕ!! ВАЖИ ДО ИЗЧЕРПВАНЕ НА ОПРЕДЕЛЕНИТЕ КОЛИЧЕСТВА!!



Цена: 14.00 лв. (BGN)

Cat. No.: WIZ00013664
Label: BMG
Genre: Southern Rock/ Blues



Статус: Наличен / In Stock




Rereleased two decades after the motion picture debuted, the soundtrack to the movie version of America's first "tribal love-rock musical," Hair, holds up amazingly well. Performances by Treat Williams ("I Got Life"), Beverly D'Angelo ("Good Morning Starshine"), and Nell Carter ("Abie Baby" and "White Boys") are as uproarious as ever, while Cheryl Barnes's "Easy to Be Hard" remains a paralyzing gospel number. The rerelease of the music comes at a time when the spoiled offspring of the original Woodstock generation returns to the farm rioting, destroying property, and filling arrest dockets with names. If nothing else, the CD is a reminder of a time when social awareness, brotherly love, and mind expansion were mantras, not marketing rhetoric on the sides of soda bottles.
TRACKLIST:
01- Aquarius [Hair - 20th Anniversary Edition]
02- Sodomy [Hair - 20th Anniversary Edition]
03- Donna & Hashish [Hair - 20th Anniversary Edition]
04- Colored Spade [Hair - 20th Anniversary Edition]
05- Manchester [Hair - 20th Anniversary Edition]
06- Abie Baby & Fourscore [Hair - 20th Anniversary Edition]
07- I'm Black & Ain't Got No [Hair - 20th Anniversary Edition]
08- Air [Hair - 20th Anniversary Edition]
09- Party Music [Hair - 20th Anniversary Edition]
10- My Conviction [Hair - 20th Anniversary Edition]
11- I Got Life [Hair - 20th Anniversary Edition]
12- Frank Mills [Hair - 20th Anniversary Edition]
13- Hair [Hair - 20th Anniversary Edition]
14- L B J [Hair - 20th Anniversary Edition]
15- Electric Blues-Old Fashioned Melody [Hair - 20th Anniversary Edition]
16- Hare Krishna [Hair - 20th Anniversary Edition]
17- Where Do I Go [Hair - 20th Anniversary Edition]
18- Black Boys [Hair - 20th Anniversary Edition]
19- White Boys [Hair - 20th Anniversary Edition]
20- Walking in Space [Hair - 20th Anniversary Edition]
21- Easy to Be Hard [Hair - 20th Anniversary Edition]
22- 3-5-0-0 [Hair - 20th Anniversary Edition]
23- Good Morning Starshine [Hair - 20th Anniversary Edition]
24- What a Piece of Work Is Man [Hair - 20th Anniversary Edition]
25- Somebody to Love [Hair - 20th Anniversary Edition]
26- Don't Put It Down [Hair - 20th Anniversary Edition]
27- The Flesh Failures & Let the Sunshine In [Hair - 20th Anniversary Edition]