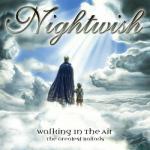 ДРУГИ АРТИКУЛИ НА
NIGHTWISH:


Artist: NIGHTWISH
Album: "WALKING IN THE AIR - THE GREATEST BALLADS (CD)"

Year: 2011
Media type: CD
- This compilation will contains remastered the "greatest ballads" from the 4 first Nightwish album [!]


Price: 29.00 лв. (BGN)

Cat. No.: WIZ00012963
Label: Drakkar
Genre: Symphonic/ Neo Classical Heavy Metal


Статус: Артикулът е временно изчерпан!
Доставка до 30 дни.
TRACKLIST:
1. Walking In The Air [05:28]
2. Angels Fall First [05:34]
3. Sleepwalker [03:04]
4. Sleeping Sun [04:01]
5. Dead Boy's Poem [06:47]
6. Deep Silent Complete [03:57]
7. Feel For You [03:54]
8. The Phantom Of The Opera [04:09]
9. Ocean Soul [04:14]
10. Lagoon [03:46]
11. Swanheart [04:44]
12. Two For Tragedy [03:51]
13. A Return To The Sea [05:46]
14. Away [04:32]
15. Forever Yours [03:51]
LINE-UP:
Tarja Turunen - Vocals (all tracks)
Marco Hietala - Bass, Vocals (on tracks 7, 8, 9,10 and 15)
Jukka Nevalainen - Drums (all tracks)
Tuomas Holopainen - Keyboards (all tracks)
Emppu Vuorinen - Guitars (all tracks), Acoustic Guitar (on track 1)
Sami Vanska - Bass (on tracks 2, 3, 4, 5, 6, 11, 12, 13, 14)