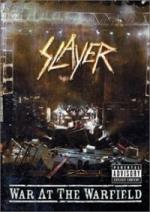 ДРУГИ АРТИКУЛИ НА
SLAYER:


Artist: SLAYER
Album: "WAR AT THE WARFIELD (DVD)"

Year: 2003
Media type: DVD
- SLAYER Live from the 2001 God Hates Us All Tour! Feat. 19 Metal Classics + "Fans Rule" 48 min. of Fan Mayhem [!]

Price: 20.00 лв. (BGN)

Cat. No.: WIZ00011834
Label: American Rec./ Sony
Genre: Thrash Metal/ Speed


Статус: Артикулът е временно изчерпан!
Доставка до 30 дни.
War at the Warfield is a concert video by Slayer which was released on July 29, 2003, through American Recordings. Recorded at Warfield Theatre in San Francisco, California on December 7, 2001, it is the band's second video album. The DVD's contents were announced by MTV on July 25, 2003. It is the last release by Slayer to feature percussionist Paul Bostaph due to a chronic elbow injury. As a result, Bostaph was replaced by original Slayer drummer Dave Lombardo. The film was well received by critics, debuting at number three on the Billboard DVD chart, and sold over 7,000 copies in its first week. It was certified gold for selling over 50,000 copies.

TRACKLIST:

1."Disciple" (Jeff Hanneman, Kerry King)
2."War Ensemble" (Tom Araya, Hanneman)
3."Stain of Mind" (Hanneman, King)
4."New Faith" (King)
5."Postmortem" (Hanneman)
6."Raining Blood" (Hanneman, King)
7."Hell Awaits" (Hanneman, King)
8."Here Comes the Pain" (King)
9."Die by the Sword" (Hanneman)
10."Dittohead" (King)
11."Bloodline" (Araya, Hanneman, King)
12."God Send Death" (Araya, Hanneman)
13."Dead Skin Mask" (Araya, Hanneman)
14."Seasons in the Abyss" (Araya, Hanneman)
15."Captor of Sin" (Hanneman, King)
16."Mandatory Suicide" (Araya, Hanneman, King)
17."Chemical Warfare" (Hanneman, King)
18."South of Heaven" (Araya, Hanneman)
19."Angel of Death" (Hanneman)

Music video for "Bloodline"
"Fans Rule" documentary (50 min.)
Photo gallery